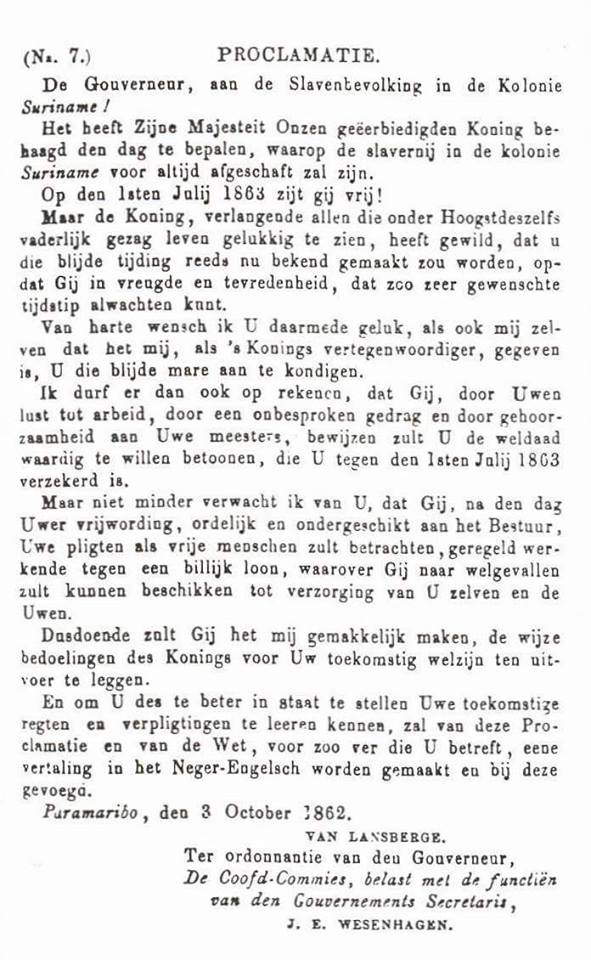 1 juli vieren?
Hoe kan ik nou het feit vieren dat mijn voorouders hun vrijheid teruggegeven is, terwijl niemand het recht had om hun vrijheid te ontnemen?
Dit feest is voor mij net zo wrang als vieren dat een fietsendief eindelijk tot het inzicht komt dat hij jouw fiets terug moet geven.
Stel je dat eens voor.
Ieder jaar weer nodig je hem en een ieder uit om zijn groei, zijn inzicht, zijn bewustzijn te vieren.

Op 1 juli vieren we eigenlijk niet onze vrijheid, maar het bewustzijn dat de kolonisators kregen dat wij ook mensen waren.
Dat zegt deze proclamatie me.
Wij wisten het al die tijd wel, maar gemakshavle drong het toen pas tot hun door. En ieder jaar herdenken we die vooruitgang die zij meemaakten met een enorm feest.

Nope. Not me!
Mijn 1 juli overpeinzing:
Als je afstammeling bent van tot slaaf gemaakten, is deze wereld jouw erfenis.
Hij is gebouwd met hun vrijheid, bloed, zweet en tranen.
Verbras je erfenis niet.
The world is yours!
Eis wat je toekomt: alles!
Wake the fuck up en bezin.