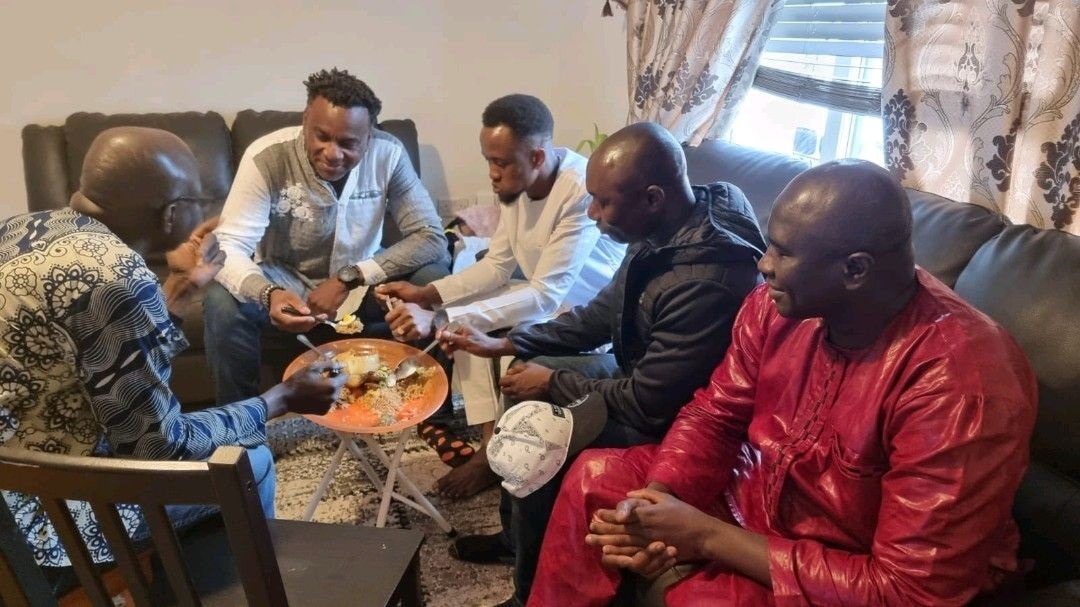 Oprecht. Het was lang geleden dat ik met Moslim vrienden het einde van Ramadan mocht vieren. Het zit hem tussen nooit uitgenodigd worden en mezelf heel selectief en niet echt uitnodigbaar opstellen.
Maar in Ierland belandde ik toch in een Ied samenkomst van de Ghambiaanse gemeenschap in Ierland. Familie is niet altijd bloedverwant.
Samen eten uit één enorm bord barstensvol jollof rice met lamsvlees; Net zoveel lepels als er gasten zijn.
That's how we eat together back home.
We believe there is a spiritual connection in doing this. Like family," vertelt Musa, mijn nieuwe mati die moest lachen omdat Sudanezen vaak denken dat hij Sudanees is.
Thuis zijn ook als je niet thuis bent.
En t was lekker man!
As far as we are concerned the discussion has been over for a long time; the Senegambia jollof is the best jollof. Please tell the Nigerians and the Ghanaians for me," zei Mbemba, mijn gastheer.
Ik zeg niks daarop maar het is wel een mooie uitdaging voor mijn andere mati uit andere Afrikaanse landen, want het was inderdaad het lekkerste eten dat ik totnutoe heb gegeten van het continent waar mijn voorvaderen van gestolen zijn.
En ik hou eigenlijk niet eens van lam.
Comments are closed