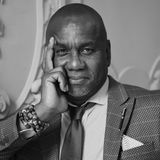 Tijdens de oerdomme rellen enkele weken geleden door mensen die zich verzetten tegen pogingen die werden genomen om hen in leven te houden, waren stratenmakers ineens hiertegenover bezig een totaal onnodige job te doen. Irriteerde me eerlijk gezegd.
Mijn auto stond ernaast geparkeerd en die ging ik verplaatsen. Op precies datzelfde moment liep 1 van de twee gasten met een kruiwagen vol half gebroken straatstenen langs me en kieperde die eruit op de plek waar hij ging werken.
Dat oorverdovende schrapende geluid van stenen tegen ijzer ging dwars door me heen, maar ik moest erom lachen, dus hij keek om naar me, vragend.
Ik zei "ja die relschoppers zouden blij met je zijn."
Het landde niet bij hem, maar het schoot langs hem heen de wijde lucht in, net een vuurpijl die niet knalt in het donker van de oudejaarsnacht.
Zonde! Onbrevredigend.
Ik hoorde de vraagtekens zich in zijn hoofd vormen; hij keek verdwaasd alsof ik hem om een wiskundige berekening had gevraagd in het Grieks.
"Wat zegt u?, vroeg hij.
Ik zei "ach laat maar".
Ik glimlachte, stapte in mijn auto en parkeerde hem een meter of 10 verder.
Toen ik uitstapte zag ik dat hij naar zijn collega was gelopen en dat die hem mijn mop aan het uitleggen was. Met geduldige handgebaren, en hij moest er wel om lachen.
De ander haalde zijn schouders op en liep terug naar zijn omgekieperde stenen. Hij keek me stuurs aan want ik had zijn tijd zitten verdoen.
Ik denk dat hij een Hollandse tyuri maakte
Maar nu weet ik dus niet of mijn mop te hoog gegrepen was voor hem … of was hij zelf een relschopper en kon hij daarom mijn humor niet op prijs stellen?
Comments are closed