"We don't just want to ask; we also want to contribute," said Alphonse Muambi, initiator of a political manifesto that African residents of The Hague presented to the Municipal Council of the city on Friday April 13 2018. Formation negotiations for the Council were ongoing in the aftermath of the latest elections and the residents were hoping that their manifesto would help them get the problems they were facing on the negotiation table.
The three-page document mentioned perspectives for youth, school drop-outs, unemployment, abuse of single women and racism as the issues they face the most. But the document also delivers possible solutions. "We have people in our network who work in the field; that means we have inside info regarding the problems. That is why we are mentioning the problems; but we're also willing to help solve them," Muambi said.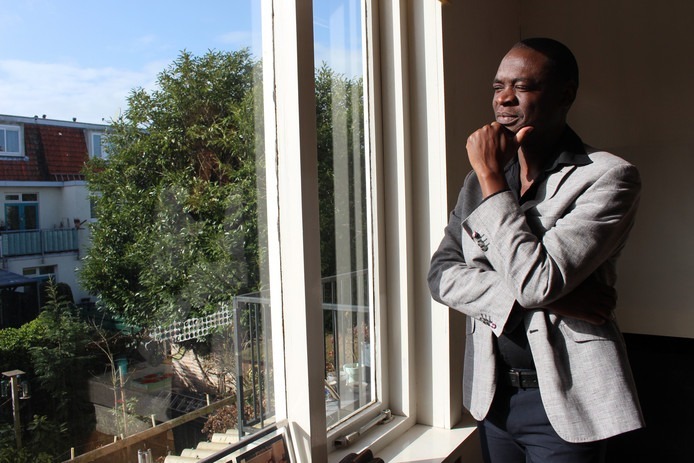 Born in the Democratic Republic of the Congo, Muambi is a writer and a speaker, who, during the last national (2017) and municipal elections (March 2018) ran on the list of leftist party GroenLinks (GreenLeft). He insists though: "This was not a GroenLinks initiative; yes, it also regards the party, but then again it regards every party."
He estimates that there are about 15,000 Africans who live in The Hague, "each one of them Hagenaren who should be able to function fully in our beautiful city.
The manifesto was signed by eight organisations that represent the African community. "We met on March 28 and we were all in agreement. We live in this city and we want the best for it."
Is this the first time that the African community takes an initiative such as this?
Yes indeed, especially on this political level. People have been active on project level for a while, but we wanted to take these matters to the negotiation table of the formateur and of all parties that might eventually form the Municipal Council that will lead our city for the next four years. We do hope that they take it seriously. We don't just want to be part of the problem, but also of the solution.
How did you register the matters that are mentioned in the manifesto?
This has been researched several times in the past, but all reports that came out have stranded somewhere. The people in our community know what the issues are and their accounts have been drafted up, but those publications were mainly for private use. As it regards to discrimination for instance, researcher Ricardo Lemmer wrote a substantial reported for the municipality a few years ago. He presented his findings to the Alderman but they did not put it to use.
(But) we know the issues …
If you want to talk about radicalisation of our young people -especially those with a Muslim background-, we have people in our network who have their fingers on the pulse. They are out in the field and they know what is happening.
And personally, I am an expert and confidant in the matter of drugs and abuse of single women. I am in close contact with the police and I know how that process goes. These women are often hired to traffic ecstasy pills to for instance Morocco … young women who are chartered to fly to South America to bring back drugs to Europe. They get paid some money for this. They are in such weak positions in life that they have to accept it. It is not a healthy situation.
And then there is the matter of children who are removed from their parents' homes. It creates a lot of problems. It may be a normal procedure here, but it is a totally new phenomenon for people from Africa who come here to live. If a child is taken from its parents' home, it sometimes has more problems when it returns afterward. We also want to play our role in these situations.
And there are solutions; one big one is in entrepreneurship; the black community -and specifically the Africans- is a community of entrepreneurs. We are not people who walk around with our hands open and reached out, but too often we run into rules and regulations here that stifle people's urge to open their own businesses. We call for attention for this. Research has shown that when people relocate from here to England or Belgium, they and their businesses blossom quickly. Why does it happen there and not here? Do they want us to leave this country? From The Hague it should be possible to foster relationships between The Hague companies and African counterparts. There is potential and it would be a win-win.
Are you only talking about people from the African continent?
A lot of what we mention is a broad problem that regards the entire black community of The Hague. But the African community has some specific experiences. There is overlapping, like for instance the drug trafficking problem, but radicilisation for instance is something that is specific to the Muslim community within the African community. Discrimination again is a problem that the entire community has to deal with.
Do you think the municipality is lax when it comes to dealing with these problems?
I feel like they are not open to tackling the problems together with people from within the community. Or could it be that we have not approached them often enough with the problems and the solutions. But that is in the past. We're here and ready to discuss the problems and help the solve them.
How do you hope that they respond to your manifesto?
I regret that formateur Edith Schippers didn't even make 20 seconds available to meet our small delegation of five people. We had hoped to present it to her personally and tell her what we expect from the Council in the next four years and what we could do ourselves. That we know what the problems are and that we would like to be part of the solutions. But she did send a message that she has read the manifesto. And all faction leaders have received it through the usual channels of the Municipal Council.
---
By Marvin Hokstam | This article was published (in Dutch) in Haagsche Courant and on AFRO Magazine in April 2018